#itsourlegacy #skmf #masirelegacy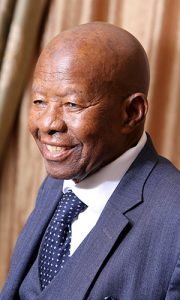 Teacher, Journalist, Farmer, Politician, International diplomat & Elder statesman
Sir Ketumile Masire was Botswana's second President, serving 18 years from 1980-1998. Prior to this, he was a leading figure in the independence movement and then the new government, and played a crucial role in facilitating and protecting Botswana's steady financial growth and development.
Having trained as a teacher, Ketumile Masire took up farming in 1956 and journalism in 1958, becoming the editor of the Botswana Democratic Party Newspaper "Therisanyo" in 1962. In 1966 he became a Member of Parliament and later Vice President and Minister of Finance and Development Planning.
In 1980 he succeeded the late Sir Seretse Khama as the second President of the Republic of Botswana, and in 1984 won the Presidential elections under the ruling Botswana Democratic Party. As President, Sir Ketumile Masire was responsible for the introduction of comprehensive social service programmes which significantly improved Botswana's education, communications and health indicators. Sir Ketumile Masire's government was able to increase nutrition levels in the country during the 1980s, despite Botswana experiencing a severe drought. During his tenure of office, he was Chairman of the Southern African Development Community (SADC) and Co-Chairperson of the Global Coalition for Africa. He also became the first Vice-Chairman of the Organization of African Unity in 1991.
In retirement, Sir Ketumile Masire remained active as an elder statesmen and intervened in diplomatic initiatives in a number of African countries, including Rwanda, the Democratic Republic of Congo, Ethiopia, Lesotho among others. In 2007, he established the Sir Ketumile Masire Foundation which exists to promote peace and good governance, innovation and alternatives in agriculture, and children's welfare.
Famed for his witty and wicked sense of humour, many will forever remember him for his charisma, effortless charm, gift of the gab and his rumbling belly laugh. Under his regime, Botswana and its people thrived, earning the country the description of the "shining example of democracy in Africa."
He had the knowledge of the country, of the status of Batswana at that time. He knew their values, value systems, idioms, he knew about botho, about the importance of not doing things that were shameful to yourself, your Kgotla, and your community. He also concentrated on the idea of *mmualebe – that people should be allowed to speak. His sense of humour and sense of understanding all people in Botswana, and his ability to communicate with people was what took us forward in terms of concepts and ideas that people did not appreciate at the beginning."
He is a true Democrat-his tolerance of people was amazing. He would tolerate everybody, and you could speak to your heart's content. He was a very principled person, very principled.
I saw Masire for the first time as a teenager at a political rally in the 1960s. He had the charisma; people would come and follow his rallies. This man had the gift of the gab, when he addressed meetings at Kgotla you just had to listen. What I loved about him was that when you asked questions, even provocative, he would never allow himself to be provoked. He would never dodge questions, no matter how potent.
I think Rre Masire has a way of handling people — he is straightforward, he laughs. He made everybody feel that they were part of it, there were no strangers at BDP meetings.
President Masire was a hard working guy. He and the other first-generation BDP leaders were all honest, straightforward people. Like all Batswana they were very humble, practical people with no arrogance or pretense about them, and very civil. These BDP pioneers were very loyal to the party and the government.
Sir Ketumile, no doubt, is a nationalist of unsurpassed measure, whose footsteps and footprints have not only been heard and felt in Botswana, but also in Africa and the whole world.
When journalists ask me, what made Botswana an economic and democratic success story, I always explain it in two words: Quett Masire. He is an amazing person who I admire more than anyone in the world.
We remain indebted to Sir Ketumile Masire for his commitment and steadfast leadership in building, nurturing and consolidating democracy in our country. Having, in 2007, founded and led The Sir Ketumile Masire Foundation himself, Rra Gaone was a true humanist, and such is an example of what he shall eternally be remembered for.
Rra Gaone was an independent thinker who was never afraid to speak his mind even during difficult times. Rra Gaone treated Batswana equally regardless of party affiliation and held his independent views till his demise. He was a man of integrity who did his best to maintain the semblance of peace that existed under his leadership of this country. A true and genuine nationalist
His legacy includes turning around Botswana's low, poverty status into a middle- high-income economy. The tolerance of divergent views; uniting Botswana nation; founding Seepapitso Secondary School in Kanye; his formation of Front Line States and SADC; his wise leadership of this country at the most explosive time in the region and his inclusion, albeit in a small way, of the opposition through the multi-party forum – the All Party Conference. He also played an important international role as facilitator of peace in the DRC, Ethiopia, and Lesotho. In few words, here lies a man who established a new government, effectively ran a government to prosperity and ultimately peacefully transferred power to another statesman.
President Masire was a giant of African democracy and greatly loved and respected as a man and a leader. What I shall hold most dear from my time with President Masire was the example of the simple dignity of his life and his sense of duty. President Masire's legacy is a standard for all leaders and for all of us.
As the principal architect of many of Botswana's economic and political successes after independence, he showed that it is possible if leadership puts the country's rather than one's own interests first.
We will always remember Sir Ketumile as an outstanding African leader and patriot who played a critical and courageous role in the struggle for the liberation of our country from the shackles of the apartheid system. Further, Sir Ketumile belonged among that eminent cohort of African leaders who served the peoples of Botswana and the rest of Africa with great honesty, integrity and humility, always informed by an unwavering commitment to discharge their responsibilities without any expectation of personal gain.
A true Pan-Africanist, Masire made invaluable contributions in seeking peaceful solutions to challenges in African countries such as in South Africa, Mozambique, Namibia, Zimbabwe, Angola, Ethiopia, Somalia, Lesotho the DRC, to name but a few.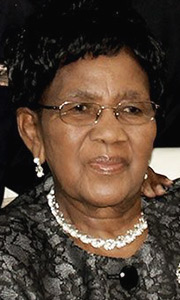 Teacher, Former First Lady, Community Builder & Philanthropist
Lady Olebile Masire was born in 1932 in the village of Modimola, Mafikeng. She was the daughter of Mr. Fenkwane Mogwera and Mrs. Mabu Mogwera, who were both educated professionals, her father being a police constable and mother a qualified teacher.
From her maternal side she belonged to the Kgosi Andrew Tawana-a-Tshidi mina tholo royal family. As one of a family of three daughters she used to go to the lands at Disaneng, where she would milk and look after the cattle. She also learned to ride and take care of horses from her father.
After graduating from Tiger Kloof, she followed in her mother footsteps becoming a teacher for many years at Mafikeng and later Kanye. She was married to Sir Ketumile Masire on the 2nd of January 1958.
Interesting Facts
Longest serving First Lady of Botswana
Her mother was born in the royal family of Mr Andrew Tawana-a-Tshidi-a-Mmina Tholo.
Dedicated herself to the cause of the youth, the unemployed, and illiterate women.
Humble, hardworking, compassionate, friendly and mother of the nation.
Had six children of her own BUT was mother to all, especially disadvantaged and marginalised children, youth and women
Had a place for everybody regardless of their origin, class, or gender.
Patron of Special Olympics Botswana since 1989
Passed away in May 2013 – Her passing away is a great loss to the nation and Government of Botswana. Though it's a great loss, we are comforted that she was a great MOTHER OF THE NATION.
Mma Gaone was one of the great people who helped build the nation after the country gained independence from Britain in 1966. Mma Gaone was a mother to many whom she met from different walks of life, especially disadvantaged children, youth and women.
Lady Olebile was the matriarch, not only of the Masire family, but the nation as a whole.
The life and work of Lady Olebile Masire was devoted to serving this nation and her people. All of us who had the opportunity to meet her and those of her generation know that they were high minded citizen for whom the interest of the nation and the good of the majority always came before individual interests and greed.