The History Of The Foundation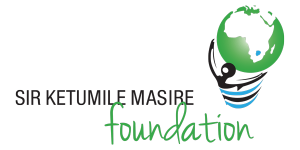 The Sir Ketumile Masire Foundation is a registered Trust dedicated to contributing towards the socio-economic development of our country, and with specific focus on Youth in Botswana.
The organization co-ordinates activities at a national level aimed at creating an enabling environment to meaningfully participate in the development of Botswana. SKMF was founded in 2007 by the late former President of the Republic of Botswana, His Excellency Sir Ketumile Masire and Lady Olebile Masire.
As a Non-Governmental Organisation, the Foundation relies on donations and sponsorships from the business community, members of the public and from fundraising efforts.
SKMF strives to facilitate and drive efforts to promote:
Peace and Good Governance
Children's Welfare
Innovation and Alternatives in Agriculture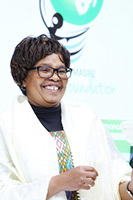 Gaone Masire is a human resources professional with extensive experience in leadership development and management. During her 30 year career she has served in various positions in the public, private and international arena. Most recently, she served as Head of Human Resource Management for the African Union in Addis Ababa from 2005 until her retirement in 2018.
Ms Masire has a strong commitment to empowerment and cultural development through her involvement with several initiatives in Botswana and abroad. She was one of the first people to lead a team of Botswana cultural dancers to Washington DC and Virginia. Through the Smart Partnership Movement, she played an influential role in ensuring and coordinating participation across African countries. She has been a committed member of Junior Chamber International for many years where she also served a term as National President of Junior Chamber Botswana. Her voluntary service to the organisation led to her receiving an Award for Exceptional leadership from the World President Junior Chamber International. Gaone was a Fulbright Hubert Humphrey Scholar at University if Washington in Seattle.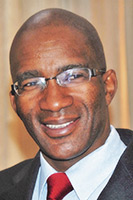 Mr. Mmetla Masire
Chairman
Mmetla Masire is the Managing Director of the Okavango Diamond Company (ODC). He has over 30 years of experience in the diamond industry. He joined ODC, from the Ministry of Mineral Resources, Green Technology & Energy Security where he served as Permanent Secretary. Some of the senior positions he has held include being the CEO of Water Utilities Corporation, Debswana Group Engineering Manager, Orapa Power Station Project Manager, and Mine General Manager. Mr. Masire holds a Bachelor of Engineering (BEng) in Electrical & Electronics from the University of Wales. Mr. Masire has served in several boards including De Beers, Debswana, Diamond Trading Company Botswana, Minerals Development Company Botswana, etc. He is currently the Chairman of the Board of Trustees of Sir Ketumile Masire Foundation and the President of Botswana Cycling Association.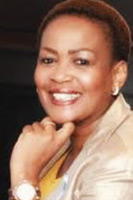 Ms. Lulu Rasebotsa
Trustee
Ms. Rasebotsa is currently the Managing Director at Liberty Life Botswana, a position she has held since June 2011. She has over 18 years of experience in the financial services industry. Her experience has been as both an Underwriter and a Broker. Ms. Rasebotsa has also diversified her experience to Pension Fund Administration, having headed up fund administration services in Botswana and South African markets. Ms. Lulu Rasebotsa holds a BSc Honours in Maths & Statistics from the University of Kent; she also has a COP in Life Insurance and an ICiBS, both from the Insurance Institute of South Africa. Ms. Rasebotsa is the Chairperson at South African Business Forum and has membership with Insurance Sub sector Champion- BITC.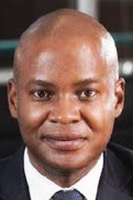 Mr. Richard Malikongwa
Trustee
Richard is currently the Regional Director and Chief Executive Officer at the Institute of Development Management (Botswana, Lesotho and Swaziland). Prior to this, Richard worked at Barclays as Human Resources Director and at the United Nations Secretariat in New York where he held the positions of Deputy Chief of Civilian Personnel Affairs and Coordinator of Recruitment in the Department of Peacekeeping Operations. Richard holds a Bachelor of Arts Degree in Economics and Public Administration, a Diploma in Human Resources Management, Associate Diploma in Banking and MSc in Human Resources Management & Labour Relations.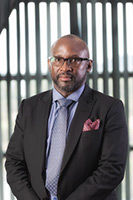 Mr. Martin Makgatlhe
Trustee
Martin Makgatlhe has played a pivotal role in the Securities Market of Botswana. A qualified stockbroker with over 20 years experience in senior management roles, Martin Makgatlhe is a pioneer of both the capital markets development and fund management business in Botswana. Martin is Motswedi Securities principal shareholder and Chief Executive Officer. He sits on boards of some of the most strategic corporations in Botswana, including Botswana Post where he serves as Chairman of the Board of Directors, and the Botswana Stock Exchange, among others.  
SKMF was established through a "NOTARIAL DEED OF TRUST" and is run by a Secretariat under the guidance of a Board of Trustees comprising members with various backgrounds.
The trustees are appointed for 3-5 years.
Sir Ketumile Masire is the founding Patron of the Foundation.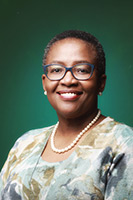 Ms. Matshidiso Masire
Matshidiso Masire has an extensive background of accomplishments in international project management, management consulting, and programme development across the private and not-for-profit sectors. She has worked in key overseas markets to plan, direct and implement integrated programme strategies. Her global clients include among others Motorola, Iridium, YMCA of Metropolitan Chicago, Calyx Africa, and The Coca-Cola Company in Africa, The Virgin Group, The International AIDS Vaccine Initiative, Global Health Strategies and most recently The Southern African Development Community (SADC). Drawing on her experiences and exposure, in early 2011, Ms. Masire established Bridging Dialogue to provide advisory services to businesses and organisations developing or growing their investments in Africa.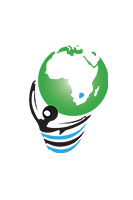 Ms. Pauline Bale
Pauline Bale is an experienced Event Conceptualiser & Manager and Certified Protocol Professional with over 25 years practical experience in the field. She has conceptualised, produced and directed a broad range of large scale high profile events for various companies in Botswana and abroad. Certified as a Corporate Etiquette and International Protocol Consultant and Trainer by the Protocol School of Washington, USA, Ms Bale is the Founder of Elite Protocol Consultatns and is considered a pioneer in her field. She has been feature on TV sharing her expertise on protocol and effective business ettiquette.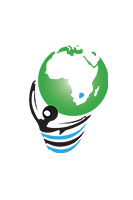 Ms. Lesego Masitara
To be completed